With governments around the world putting in-place a phased re-opening of the economy, hospitality businesses are starting to see a glimmer of light at the end of the tunnel. Everyone is looking for positive news but also practical tips and strategies to move forward.
Sculpture has been asking for and listening to feedback from our franchisees worldwide, to get a better understanding as to what is happening in their regions, and if they have any advice to pass along.
Are you planning for your restaurant reopening? Now is the is the time to prepare for restaurant success.
Today, we are sharing the viewpoint of Bryan Gieg, who is our Franchisee based out of Denver, Colorado. Bryan has kindly shared some strategies that he feels are important to consider in order to fill seats as restaurants begin to open with reduced capacity and adhere to social distancing protocols.
In most regions, we are hearing that the opening capacity will be 50% of what is normally allowed in establishments. To adhere to social distancing and safety protocols, this could go on for quite some time. This will definitely be a challenge for restaurants and bars as they begin to open because of the decrease in revenue coming through the doors. In order to survive during this transition, it is important that restaurants adjust quickly and become extra creative.
FILLING SEATS DURING TRADITIONAL SLOW TIME PERIODS WILL BE IMPERATIVE. If you were 100% full on busy nights but only 30% to 40% full some of the time, it is going to be essential to be 50% full all of the time.
With many years experience in the hospitality industry, Bryan has shared some promotion ideas and strategies to help fill those empty seats during the slower times, and increase revenue / profitability.
Happier Happy Hours
Happy Hour presents a ton of possibilities for restaurant and bar owners because anyone can customize it to attract their specific clientele and make it as profitable as possible. Here are a few Happy Hour ideas to think about running in your establishment:
Whole Bar Happy Hours
When a bar offers a 'whole bar' happy hour, customers' get excited. If all liquor is on special we all know that most customers will start looking towards top-shelf items. Focusing on Profit per Drink instead of Pour Cost can make an establishment more money. Most people can only consume so much alcohol. If they are only going to have 2 or 3 drinks each you might as well make as much profit on each one that you can. Many love top-shelf options but are also cost-conscious enough to take advantage of any Happy Hour special.
Below is a potential scenario (based on USD in Denver, Colorado).

Would you rather make $24.72 gross profit or $11.07? Even with an unheard of 34% or 58% PC, you make more profit if a customer drinks the Atticus or even the Blue. If most people are only having 2 or 3, a higher PC can give you a larger profit. If you only offer Wells and less expensive domestic options during Happy hour then the profit won't be that great. But, if you offer a Family Jones Atticus or 'god forbid' a Johnnie Blue at a good price, customers will consider one of those as an option and your profit will increase. Highly personable staff who are skilled in upselling will also help to promote these top-shelf options as well.
Happy Hour in the Dining Room
There are some restaurants that include Happy Hour in the dining room and some that keep it strictly in the bar. If your reservations or peak times don't really kick in until 6 or 7, consider allowing people to get the Happy Hour specials in the dining room.
I'm sure you've seen this in your establishment, but guests may come into the bar during Happy Hour and are not able to find a seat. These guests then end up leaving because Happy Hour isn't offered in the dining room, which has open seating available - this is 100% lost revenue. This customer experience may, in turn, have them questioning going back to your establishment, especially now with many dining experiences changed.
Happy Hour isn't just for the bar, some establishments offer Happy Hour appetizer and meal specials. It is important to monitor the crowd and give people who come in closer to the end of Happy Hour notice that their table is needed for a reservation at 6:54pm (one possible scenario).
Tiered and Reverse Happy Hour
We went over a bit of this in last week's blog, but it is important to consider how to fill your empty seats during your off-peak times. This is where a tiered Happy Hour comes in! For example, this can begin around 2pm in the afternoon with a large discount offer to customers until 3pm - between 3pm and 4pm the discounts get smaller, and even smaller between 4pm and 5pm. Once 5pm hits, then your regular Happy Hour can kick in until the busy dinner rush.
Continue specials throughout the evening as well - with after service Happy Hour. If you have a good dinner rush but are usually open until midnight, consider the reverse Happy Hour approach to attract the industry folks who are getting off at 11pm or later. Keep in mind, staying open to legal last call does increase payroll liability.
Here is an example of a Happy Hour promotion to encourage dining in off-peak times:
"Were you looking forward to enjoying our delicious menu this Friday but couldn't get a reservation for 7pm? Why not try having an earlier dinner with us at 4pm? The Whole bar is HAPPY and we have great app specials!"
Bigger, Bolder Weeknight Themes
While some nights could include discount specials, others could be themed. You know your clientele and brand atmosphere the best, so here's a chance to be creative. Be sure to monitor and change up the themes that don't seem to engage customers or to adjust to season changes. A few common ones include Taco Tuesday's, Wine-Tasting Wednesday's, Trivia Nights and Date Night etc. However, be sure that the theme nights are fun for customers and staff, well communicated and set up safely to adhere to physical distancing..
Along with theme nights, you can also offer specials or discounts to frontline and essential workers. This can include EMT, RN, DR., Fire or Police Badge. You could also include grocery store employees etc. - how far you go is up to you. Discount options could include 2 for 1 on the 1st drink anytime or 50% off their entire bill on a specific day. Or both.
Start, Continue and Expand Your Takeout and Delivery Options
Some will have a little more practice at this than others. However, all should run the numbers again on the feasibility and profitability of it. If you can increase your Takeout and/or Delivery to 10% of total sales you are now at 60% of capacity. Every bit helps. Some people might not come out as much, but still need their favorite restaurant's fix. Taking delivery in-house is another possibility but could be a whole other story. You can also put in "free app to go" coupons in dine-in checks and vice versa.
Tighter Inventory Controls
This doesn't help fill seats, but we can't stress the importance of this point enough. Whether it is from "taking care of the customer", inadvertently overpouring or including too much product in a dish, it is important to monitor and control the use of your inventory. Most of you haven't been operating over the past few months, and inventory control means more control over your money. Utilizing Sculpture Hospitality's consultants, systems and software, you will be able to account for every last drop of alcohol and ounce of food.
Sculpture Hospitality are a group of 300 + strong loyal franchises worldwide that are dedicated to helping our clients succeed during these challenging times. Thank you to Bryan Gieg, based out of Denver, Colorado for sharing these promotional ideas and strategies.
---
About the Author: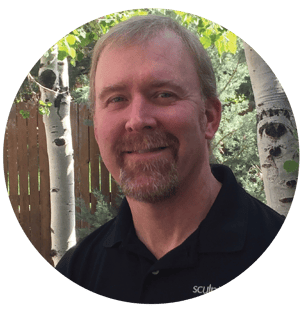 Bryan Gieg is the franchisee for Sculpture Hospitality of Denver, CO and is part of a greater network of inventory control specialists worldwide who work under the Sculpture brand to deliver innovative inventory control solutions to bars and restaurants in countries all over the world.
Bryan's 26+ years in hospitality include 16 as a Sculpture Hospitality franchise owner and another 10+ in corporate hotels and teaching. His roles include F&B Director, Banquet Manager, Certified TiPS Trainer, some corporate accounting and even a few semesters as an Adjunct Professor. He utilizes this diverse experience to passionately bring cost effective solutions in Inventory Management to our clients.